Thanks to our wide range of shaft mounted exciters, you may be able to convert your static excitation (collector ring) system to a state-of-the-art brushless excitation system. Converting to an Electric Machinery brushless exciter will bring you decades of durability and reliable starts; any time and every time.
The Exciters which we offer are designed to be assembled directly on the main alternator's shaft without modification. They are provided with a rotating rectifier bridge and they are adapted to each alternator: Electric characteristics, shaft diameter, mechanical fixations. Furthermore, they can replace existing commutator exciters on hydraulic alternators in order to obtain a brushless system.
In addition to offering solutions for upgrading machines, Drekan is also able to supply you exciters in small and medium series for the manufacture of new alternators. Do not hesitate to contact us for any request.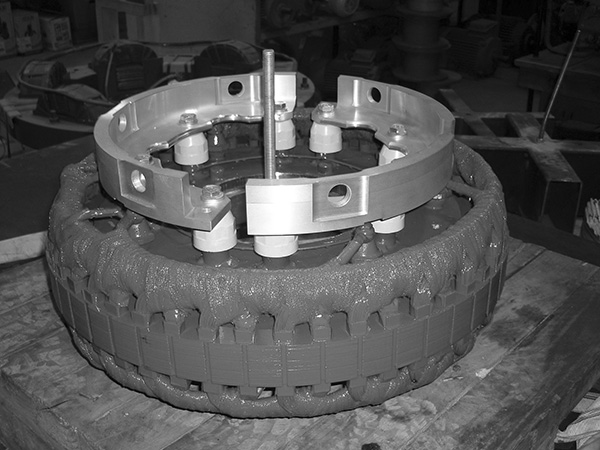 Hydro-plant generator excitation systems refit
The majority of hydro-electric power stations were built before 1970. Today with new technologies, these power stations can increase their energy output by 20% by renovating the alternator harness unit. Thus, the infrastructure is preserved. This relatively inexpensive solution is used worldwide.
With these modifications, the exciter system can easily be modified to brushless system.
EMG-EMCO, Drekan Group is one of the few companies in the world that can offer the transformation of these original exciters into brushless exciters by re-using the original magnetic circuit, thus cutting costs.
We can provide new alternators for hydraulic production or for renewing machines. We can also offer you a comprehensive solution including voltage regulator.