Nelco-Commutators : 30 years of experience in Com's manufacturing …
DC COMMUTATORS MANUFACTURING : FROM 120MM TO 3METERS, MOLDED OR V-RING …
Founded over 30 years ago, Nelco-Commutators, the European specialist in commutators for direct current motors, joined the Drekan group in 2016. Initially specializing in the mass production of molded commutators for motor manufacturers, over the last ten years Nelco has reoriented its activity on small-scale production or single components for repair companies.
Since then, the Drekan group has helped Nelco to diversify, a strategy that aims to offer complete direct current motor solutions to all of its customers.
•  Manufacturing of molded commutators from 80 to 600 mm in diameter
•  Manufacturing of V-Ring mechanical commutators for traction or industrial applications
•  Reconstruction of your up to 3 meters large commutators
•  Small-scale production of commutators for direct current motors
•  On-demand manufacturing of coils for direct current motor armatures
•  On-demand production of small series of new armatures (new shaft, new coms, new winding …
Please feel free to contact Nelco-Commutators for all of your armature, commutator or coil purchasing or repair requirements.
Consult us quickly by filling out the form including the detailed characteristics of your commutators.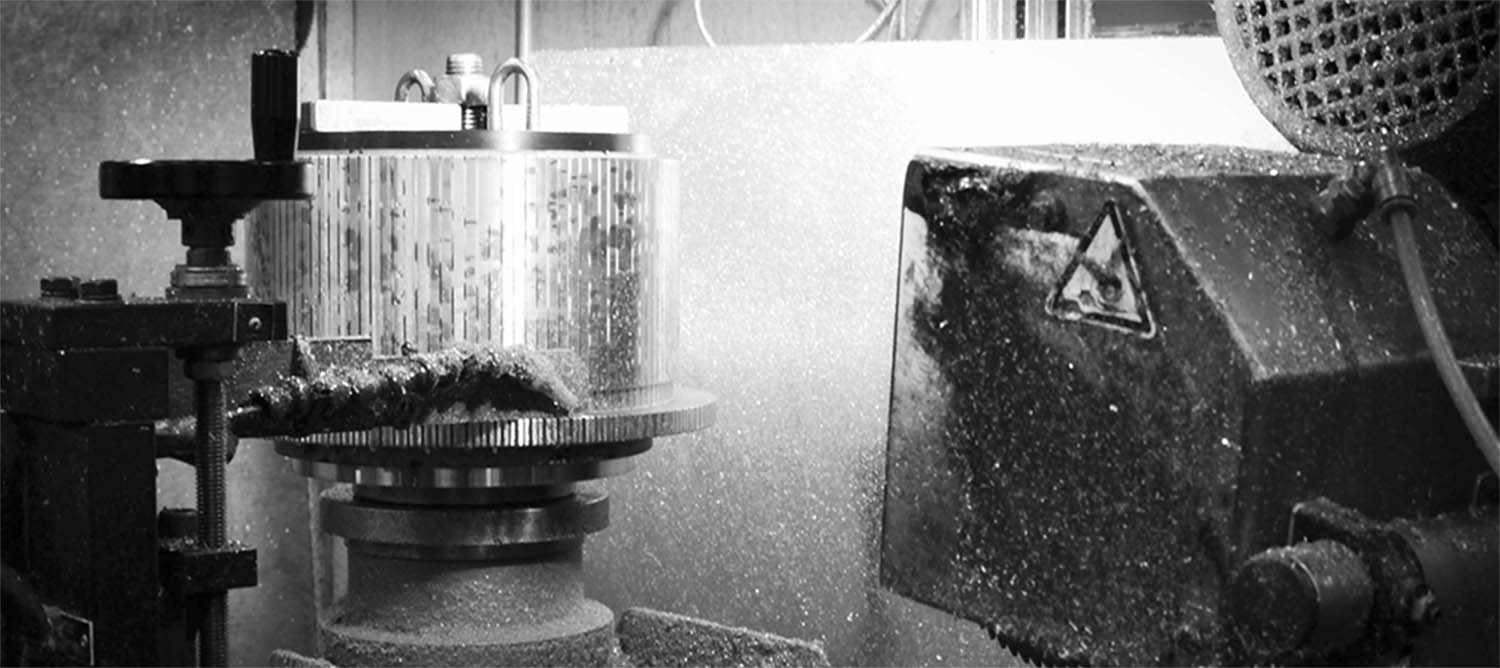 "N" Dovetail commutators: ideal for standard applications
Multiple dovetails provide ideal anchoring of the copper segments across the entire length of the stainless steel or cast iron hub. Due to control of the arch pressure combined with a very high-quality thermoset molding resin, "N" technology commutators have good dimensional stability under the effects of speed and temperature. This type of construction is recommended for class H motors. The dielectric properties and insulation resistance are very high. We offer a wide range of hubs and molding flanges. To avoid tooling creation costs, standard designs are available in virtually all sizes.
Our "N" Dovetail commutators' low radial thickness provide very large cooling surfaces and also an excellent quality-price ratio.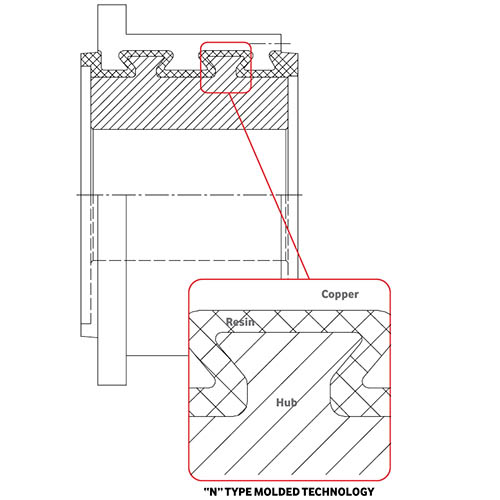 "H" Dovetail commutators: best price/perfomance ratio
With a very similar technology to that of our "N" type commutator, our "H" type dovetail commutator has been designed with a reinforced segment clamp. Although unable to reach the capacities of our "RX" commutators, our "H" type commutators do accept faster operating speeds than conventional dovetail commutators and at a relatively affordable price. This technology clearly represents the best price/performance ratio for traction motor or industrial uses.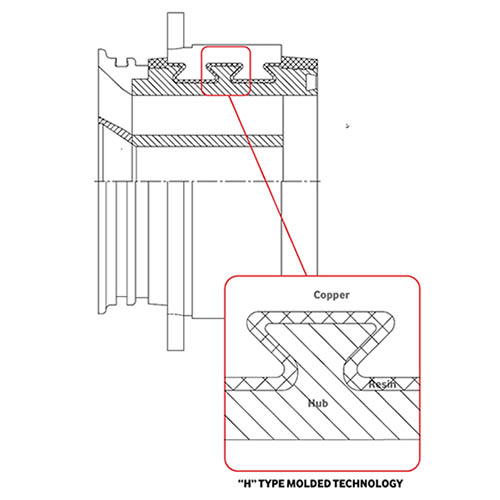 "RX" Commutators: a Nelco exclusive design for high performance motors
The RX construction represents top-of-the-line performance. The principle is unique in the molded commutator sector as there is no resin between the copper segments and the steel reinforcing rings, resulting in direct contact. A polyamide film of a few hundredths of a millimeter ensures their insulation. The dimensional stability is excellent under the effect of speed and temperature, and this performance is remarkably continuous throughout mass production.
The RX commutator benefits :
•  Segment movements are 1 micron at max and usually undetectable.
•  Out-of-roundness distortions are less than 10 microns and are difficult to measure because they merge into the tolerance of the rotor.
A remarkable dimensional stability, at distortion levels that do not disturb commutation, maximizes brush life and also enables replacement along with other mechanical components of the motor with a limited maintenance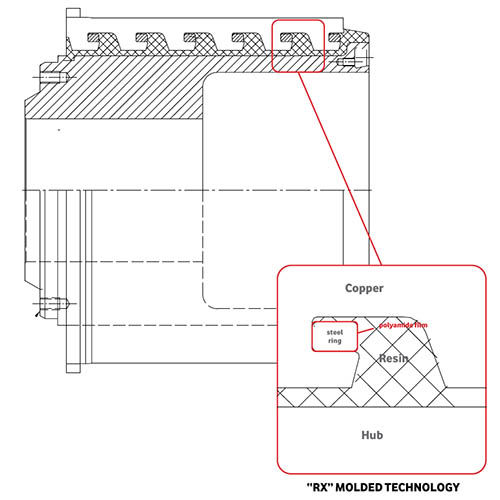 "V-RING" Commutators: for large size or traction motors
With the oldest direct current motor commutator technology in the world, this commutator is still the most commonly used worldwide for traction or for large commutators that cannot be molded. With this technology, the commutator is installed by tightening two steel cones that constitute the hub, which is insulated from the commutator segments by two mica cones. The biggest advantage of this type of commutator is that it can be completely dismantled and then reassembled.
Therefore, the entire copper segment pack can be changed after several "maintenance" grindings or an isolated repair can be carried out easily, following segment movement for example. This technology has virtually no size limits. In fact, we can produce mechanically welded-hub commutators of several meters in diameter. However, it comes at a cost much higher cost than molded commutators as their production, assembly and stabilization cannot be automated and must be performed manually.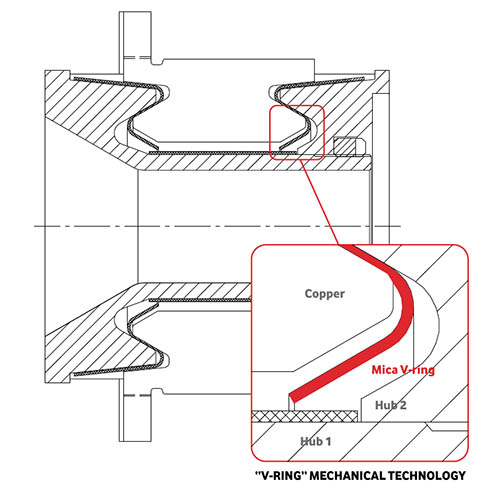 Reconstruction: a quick and economical solution
The reconstruction option is specific to mechanical commutators and occurs after several years of operation during which a series of grinding operations have already been carried out. It can also be carried out following a motor incident (mechanical breakdown, fire, etc.). The aim of this operation is to keep all of the hub's components and only replace the copper segments and mica insulating parts (segments and cones). Therefore, the operation can be carried out within extremely tight deadlines and at a much more affordable cost than the complete replacement of the commutator. For our customers who manage commutator reassembly and stabilization, we can provide only the pack of pre-assembled segments and the set of 2 mica cones.
Over 600 references available immediately …
With nearly 4,000 commutators in stock representing 600 different references, Nelco has the largest worldwide stock of commutators for direct current motors. Once the notching/milling characteristics have been accepted, Nelco can prepare, pack and ship your order everywhere in Europe (within 48 hours) or in the world (within one week).
Over the last 30 years, we have built partnerships with all motor manufacturers (Leroy-Somer, ABB, TT, Siemens, etc.) to whom we still supply first-fit commutators. In fact, our stock includes the molded commutator references that are the most widely used for repairs.
All of our references can be delivered individually for urgent requirements or be produced on a small or medium scale.